So, you're the proud new owner of a Nintendo Switch! Now what? You're probably wondering what kinds of accessories to buy now. Fret no longer, because The Megalodon is here to help! This comprehensive guide will break everything down for you, providing recommendations of the stuff we use most! We plan to update this guide periodically, so be sure to check back. If you're wondering what games to get then check out our other guide.
Cases
If you plan to ever remove your Switch from its dock, then you'll probably want a case. Most cases you'll find are of the "lunchbox" variety, meaning they're a padded rectangle with a handle containing some space for games an accessories.
Stephen's Picks
The Switch case I have actually came with the limited edition of Breath of the Wild. It's a hard case from PDP modeled after the Sheikah Slate. This serves me must fine if I need to take just my Switch with me to play in handheld mode. It's got slots for 12 games and a mesh pouch for small accessories. That particular one was a limited edition, but there's tons of them on Amazon so take your pick.
If you want to carry all of your Switch stuff together, I recommend a regular old laptop bag. I've got a Targus one similar to this that fits everything, including the case with my Switch, the dock, power and HDMI cables, a pro controller, extra joycon, and some joycon grips. If you want something a little bit more premium, you can always go for the popular Bag of Holding from ThinkGeek.
Stands
The Switch comes with a kickstand built-in, but it's not the greatest thing in the world. Not only does it only prop the Switch up at one angle, but you also can't charge your system while using it because of the USB port's placement. If you plan on using the Switch a lot in tabletop mode, then you might want to get a stand.
Stephen's Picks
I have a generic adjustable stand from Lamicall, which they now advertise as being a Switch stand even though it isn't specifically one. One potential issue with it not being designed specifically for the Switch is that the back of the stand partially covers the console's vents. If this bothers you, I recommend the Hori compact stand that is designed specifically for the Switch and features cutouts for the vents to properly direct airflow.
Audio
Unfortunately, none of the Switch controllers feature audio jacks at all, which I assume is because Nintendo wants you to use their stupid voice chat app. But when you're playing your Switch in docked mode, just listening to game audio with headphones is next to impossible. There are a few fixes for this, however.
Stephen's Picks
Your cheap option is to buy an audio extension cable. I have a 10ft nylon cable from Kinps, and it works great except for the cord running across my room.
With a recent update to the Switch, however, I opted for the new more expensive option. The Switch now supports wireless USB headsets, and I recommend the PlayStation Gold ones. Yeah, it's weird using PlayStation branded gear with your Nintendo console, but they work amazingly and sound great. Just plug the dongle into a USB port and turn on the headset! You won't be able to use the chat functionality, of course, unless or until Nintendo comes to their senses and enables that feature. As an added bonus, though, you can use it with a PlayStation (in 7.1 virtual surround sound, too) or PC. Just about anything with a USB port, really. They even work with my ChromeBook.
Protection
Fun (?) fact: the Switch does not have a state-of-the-art scratch resistant screen. It looks great, but it's actually regular 'ol plastic that scratches easily. You'll probably want to protect it.
Stephen's Picks
If it's a screen protector you're after, the popular glass one from amFilm should do that trick. I've got one of these and it suits me just fine. There's even two in a pack in case you fail at applying it the first time!
If you like to live dangerously or just want to add a little personality to your Switch, you can get a "dock sock" from etsy. Apparently, a lot of crafters had the same idea because shortly after the Switch's launch these things were everywhere. Back then, folks were complaining that the dock was actually scratching their screen, so this handy solution was cooked up that pads the inside of the dock while offering an attractive design on the outside. There are plenty of sellers making these, but I personally have one from ActivePatch and can vouch for the quality.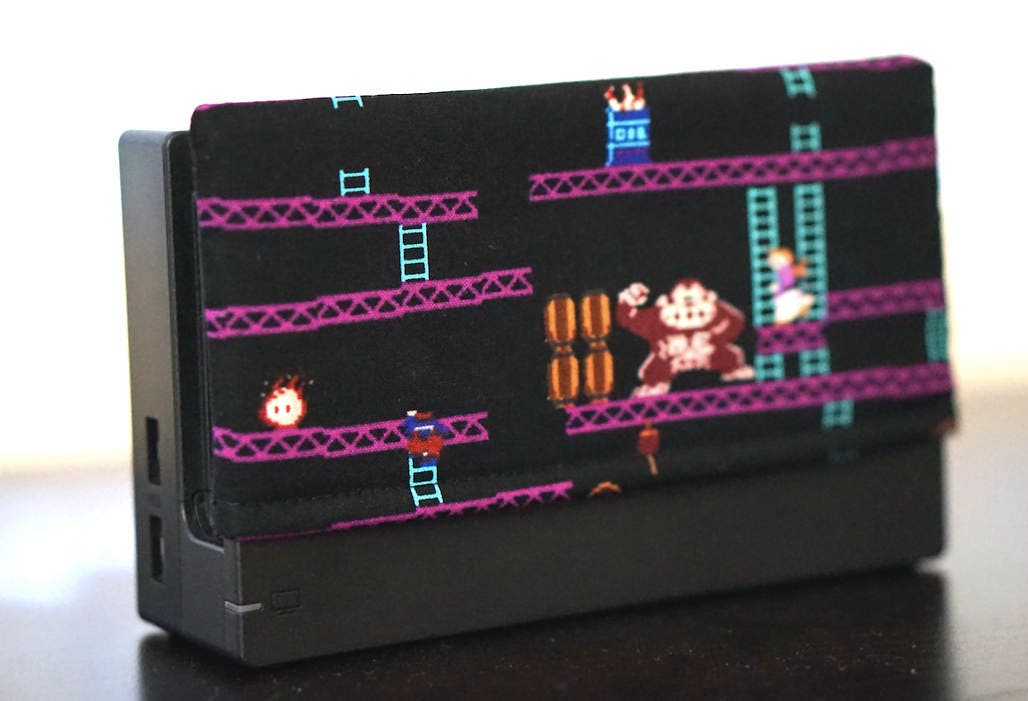 Controllers
The Switch is a very flexible system, and believe it or not has a lot more controller options than you probably realize.
Stephen's Picks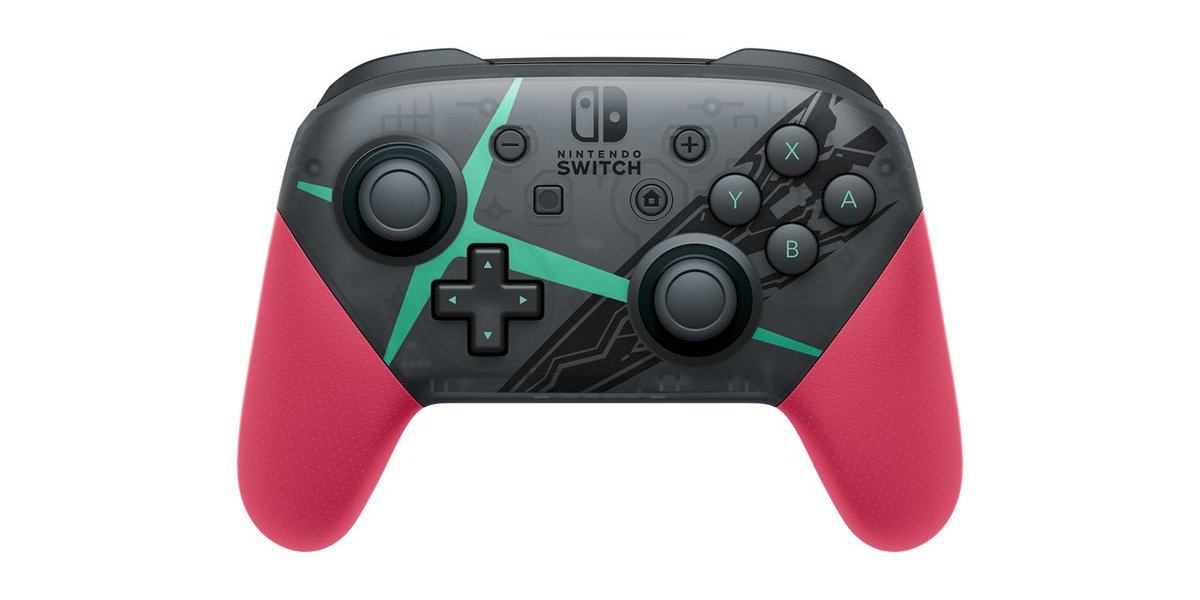 Personally, I recommend everyone give the joycon a try first before deciding to buy another controller. I bought a Pro controller at launch because the internet basically convinced me I needed one. I did not. At least, not at that point. The joycon, with one in each hand, are actually my preferred way to play. The only game I own which I feel really benefits from using the Pro controller is Splatoon 2. If you're going to be playing Splatoon 2 a lot then I recommend you make the investment. Alternately, if you find the joycon to be too small or uncomfortable, then you really can't go wrong with the Pro controller. I have a few minor gripes, such as the analog sticks being placed too close to the buttons and d-pad, and the d-pad itself being on questionable quality since it doesn't use a pivot in the middle and the whole thing can be pushed down like a button which can cause multiple inputs at once. I've heard, however, that the newly released Xenoblade 2 edition actually features a redesigned d-pad that fixes this problem. Either way, it's one of the most comfortable controllers I've ever owned.
Some people, though, take issue with the Switch Pro controller's price. The standard edition retails for $70, which some find unreasonable even though that's only $5 more expensive than a colored controller from the competition. There are alternatives, however! If you have another bluetooth controller handy and you find yourself in one of these categories, then I have the perfect thing for you:
The Pro costs too much.
I primarily want a Pro for the d-pad but I don't like the Xenoblade 2 design.
I'm never going to use the gyroscopes.
What you need is an NS Magic from Mayflash. This little baby will let you use another of your controllers with the Switch simply by plugging in a dongle. I've used it with both my Wii U Pro controller and DualShock 4 and it really is that simple. Since it's only $25, it can save you a lot of money if you've already got a Wii U Pro, DualShock 4, or Xbox One S (only this version has bluetooth) controller.
But what if you do want a fully-featured controller, but something a little bit cheaper and more compact to easily take with you? Well, I've got you covered there too! Try one of the controllers from 8bitdo. The N30 or F30 Pro have all the buttons of a modern controller crammed into the shape of a SNES controller. I bought one of these years ago for use with my PC and iPad, and it works great with my Switch. If you want something even more fully featured, the new SN30 or SF30 Pro should be just what you're looking for. This thing's got it all, except for the NFC reader, including rumble, gyroscopes, dedicated home and capture buttons, and even a turbo function. As with 8bitdo's other controllers, it works with Windows, Mac, and mobile in addition to Switch. It even charges over USB C, same as the Switch.
Everything Else
Stephen's Picks
If you plan to use your joycon for easy multiplayer sessions (and you should, because it's awesome) then you probably don't want to slide on the wrist strap and call it a day. Sure, they're packaged with your Switch, but the buttons are kind of terrible and it's nearly impossible to slide them off. No, what you want are honest to goodness grips, and there are none better than the ones by FastSnail. There is a reason these are a best seller on Amazon. I bought a pair back when Mario Kart 8 Deluxe came out and was pretty blown away. The handles on these are perfectly sized and shaped, and the shoulder buttons were actually usable, although they required just a little extra pressure. Since then, the shoulder buttons have been updated, but I haven't tried the new version to see if they're even better. The new shape looks like it makes them easier to press, though! The other benefit of these are that they're universal, meaning you can slide either joycon into them and it'll snugly fit.
I think it goes without saying that you'll need a micro SD card, but did you know the Switch can support up to two terabytes? That capacity doesn't even exist yet, but you can buy micro SD cards up to 400 gigs right now. Even though I prefer physical game cards, the eShop is overstuffed with great games these days and I've been considering upgrading from a 64 to 200 gig card since the price has really come down.